ACL Rehab

The Standard for Exceptional Care
What exactly is the "ACL"?
The Anterior Cruciate Ligament (ACL) is a large ligament deep inside the knee joint that is designed to provide stability to the knee by limiting the amount of movement between the bones of the knee joint. The ACL is one of the most commonly injured ligaments and, as such, has become one of the most highly researched structures in the lower body to improve ACL rehab.
How does the ACL get injured?
The ACL, like any ligament, can be injured when the ligament is loaded beyond its stress tolerance. The result is a full or partial tearing of the ACL tissue and this can happen in both contact and non-contact situations. Are far as specifics go, the most current information about ACL injuries is that they most commonly occur:
During non-contact when the knee undergoes loading while the foot is planted and the knee is twisting (i.e. trying to change directions)
Following contact (a forced hit or push of the knee) into hyperextension while the foot is planted, or
Following contact to the side of the knee that forces the knee inward (medially)
ACL injuries can happen in all genders, and they are seen in both athletes and non-athletic population. However, studies show that ACL injuries are more likely to happen when a person is involved in contact sports and when they participate at higher levels of competition. Also, there is data to suggest the following factors might increase the potential for an ACL injury: weakness in hip musculature; a large difference in quad strength relative to hamstring strength; a lack of balance and coordinated muscle control around the core, hip and knee.
---
Get insights from CAMPT-Certified physiotherapists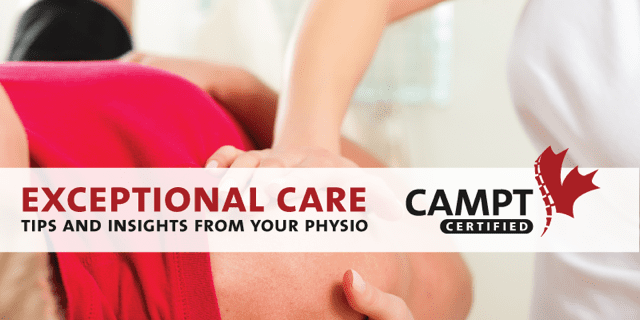 Enter your name and email address below to receive additional information about how a CAMPT-Certified physio can help you with this issue and others. We'll also send you our quarterly newsletter with additional tips to help you get better, recover faster and stay healthier.
By clicking subscribe, you agree that CAMPT can send you the Exceptional Care newsletter and other emails. We will not share your email address with third-parties.
---
How do I know if I need ACL rehab?
Common features of an ACL injury include:
A large degree of swelling all around the knee
Feeling or hearing a large "pop" followed by pain when the injury occurs
Feeling that the knee "gives out" underneath you
Feeling that the leg is "unstable" and/or may be unable to support you after the injury has occurred
Although it may not happen right away, many people with ACL injuries lose the ability to fully straighten and/or fully bend the knee within 24 hours of the injury. This is often due to the large amount of swelling that occurs inside the knee. The swelling also makes it difficult to contract the quad muscle and in some cases can cause large amounts of bruising in the back of the knee and below the knee into the calf and foot.
Are ACL injuries serious and does ACL rehab have to involve surgery?
ACL injuries are actually quite common and are not life threatening. The degree of tissue damage in an ACL injury can range from a mild strain that will heal on its own, to a complete tear that might require surgery to repair. One thing that is important to understand is that not all serious ACL injuries automatically require surgery. Did you know that several different research studies found that more than 50% of people with complete ACL tears were able to return to their sport without having completed an ACL reconstruction surgery?
Whether a person decides to treat their ACL injury with surgery or instead decides to only treat it conservatively (meaning without surgery) is a decision that is completely unique to them. A few key factors are important to consider, including:
How old is the person with the injury?
What activities will they try to go back to?
What is the level of competition / What is the person's physical status?
Have they had this injury before?
What are the pros, cons, benefits and risks of each treatment option?
Are they healthy enough for surgery?
How do they replace an ACL during reconstruction surgery?
Currently there are three common options when rebuilding an ACL:
Patella tendon autograft: involves removing a small section of the patient's patella tendon and using it to replace the damaged ACL. The tendon is usually taken from the same leg as the one with the ACL damage.
Hamstring tendon autograft: involves removing one of the patient's hamstring tendons, most commonly the semitendinosus tendon, and using it in place of the damaged ACL. The semitendinosus is selected because it possesses a large ratio of tendon to muscle belly compared to other hamstring muscles. Also, the semitendinosus is duplicated by the semimembranosus hamstring muscle which is nearly identical in location and function, meaning that the patient still has muscle in the area and will not have a complete loss of strength in that part of the leg.
Donor tendon allograft: involves removing tissue from another individual and placing it into the patient to create a new ACL. The donor tendon could be an ACL or another type of tissue such as a semitendinosus, a tibialis anterior from the shin, or a section of the quads. One benefit to this procedure is that it does not create a second injury site within the patient. The drawbacks are that it may require higher amounts or different forms of antibiotics to ensure the patient's body accepts the new tissue.
Can a physiotherapist provide ACL rehab?
Yes, absolutely. In fact, whether the goal is to diagnose and confirm an ACL injury, provide ACL rehab or prep the knee (and the person) for before and after surgery, a physiotherapist would be an ideal person to visit.
How long does ACL rehab take?
The length of time for ACL rehab will depend on the extent of the injury, the type of treatment selected, the goals for returning to activity, the patient's level of engagement in their recovery and a person's natural healing response.
Generally speaking, it is safe to assume that minor ACL injuries will take 12-16 weeks of rehab while more serious ACL injuries will take 8-18 months to heal.
Imagine for a moment that you are a strong and healthy 24-year-old athlete who was hurt playing recreational soccer. Your goal is to return to soccer safely. Here are 2 basic examples to help illustrate the different timelines for recovery:
Example (A)
You only have a partial ACL tear (less than 50% of the tissue torn). You do not require surgery. This is how ACL rehab might look:
Pain and swelling control (2-4 weeks)
Movement and basic muscle recovery (2-4 weeks)
Tissue recovery, strength, balance, and coordination recovery (8-12 weeks)
Speed, agility, explosiveness, and sport specific ability recovery (6-8 weeks)
Total ACL rehab time: approximately 4-7 months
Example (B)
You have a Full ACL tear (100% of the tissue torn). You choose to undergo surgery to repair the ACL. Your ACL rehab might include:
Pain and swelling control (2-4 weeks)
Movement and basic muscle recovery (2-6 weeks)
Retrain to load the leg, walk (2-6 weeks)
Tissue recovery (12-16 weeks)
Strength, balance, and coordination recovery (12 – 24 weeks)
Speed, agility, explosiveness, and sport specific ability recovery (8-16 weeks)
Note: most recommendations suggest no sports for at least 1 year while the knee recovers from ACL surgery)
Total ACL rehab time: approximately 10-12+ months
When should I start ACL rehab?
If you suspect an ACL injury, you should seek treatment as soon as possible following the injury. Acting quickly is because the physiotherapist will not only be able to inform you about the extent of you ACL injury, they will also be able to:
Inform you about the degree of the injury and if you have more than just an ACL that has been affected
Help you control pain and limit the amount of swelling and movement loss as a result of your injury
Help protect you from additional injury
Suggest which activities are safe and which activities should be avoided
Suggest options for formal treatment and for self-treatment on your own at home
Help you maintain your ability to walk and put weight on the injured leg
Inform you if you need additional consultation (i.e.: an xray, an MRI, an appointment with a surgeon or another specialist)
How can a CAMPT-Certified physiotherapist help me?
CAMPT Certified physiotherapists are advanced trained physiotherapists who are fellows of the Canadian Academy of Manipulative Physiotherapists and have a designation of "FCAMPT" after their name. Due to the depth of their training, they are particularly skilled at treating more complex injuries. They are focused on restoring and maximizing your movement and well-being. They will also help you:
Understand your injury and the stages of healing
Manage your expectations – your prognosis, possible activities, a timeline of recovery
Improve your physical function (strength, mobility, freedom of movement, balance, flexibility etc.)
What should I expect when I see a physiotherapist (or CAMPT-Certified physiotherapist)?
A few key things should happen at any visit to a physiotherapist (CAMPT-certified or otherwise)
You should be warmly welcomed and the therapist should introduce himself or herself by name. They should also confirm your personal details.
After your introduction, your assessment will start with asking you key questions to understand your medical history and pain experience, as well as aspects about your lifestyle, your goals and any specific questions or concerns you have about the injury and/or the ACL rehab process. This is also the time your therapist will ask important safety questions to ensure your injury is protected.
Next, your physiotherapist will ask your permission and begin to assess your ability to move the limb as well as to assess your strength, your neurological sensation and your comfort level with weight or pressure through the injured area. This will help identify and understand what is causing your pain and help confirm your diagnosis.
Once your assessment is complete, the next step should be to walk you through your injury, explain the structures involved and help you understand the treatment options you have and what each of them means in terms of benefits and risks. This is also where goal setting and treatment planning will happen with your therapist.
Here's the thing about high quality therapy; Your goals are the therapist's goals. Meaning, all good therapeutic situations are where you and the therapist work together to create a plan towards getting you back to the activities you love. This will often involve in-clinic treatment as well as exercises. Your physiotherapist will also help you with any assistive devices you need to support your recovery.