Unfortunately, young people are not immune from chronic back pain. Sitting at a computer all day combined with the sedentary use of mobile devices is a recipe for dysfunction and discomfort.
What is Scoliosis and Scheuermann's Disease?
Chronic back pain is more complicated than poor posture. Family genetics may predispose a young person to scoliosis, a curvature of the spine, or Scheuermann's disease, a more localized curvature with changes in the bones of the spine. Postural habits can make the stiffness and discomfort worse and sometimes people become concerned with the pain they experience while practicing certain sports and activities.
How to Assess and Manage Chronic Back Pain
Scoliosis can be assessed without an X-ray, by looking at an individual's spine during movement and in a variety of positions. The patient may not even have pain at the area of the most noticeable curve but may experience headaches, shoulder, or hip pain. CAMPT-Certified physiotherapists know how to identify scoliosis and the role it plays in a variety of musculoskeletal issues. They can prescribe appropriate exercises to help patients stay active and minimize pain. Although manipulation of the spine will not "cure" scoliosis, manual therapy can provide temporary relief that allows you, the patient, to regain independence in your own management.
Typically, a teenager sees a physician or health care provider for back pain and stiffness. Although the process that results in the "kyphosis" (a prominent flexed curve) associated with Scheuermann's stops progressing once growth stops, the effects do not. Much like scoliosis of the spine, taking care of this spine issue is a lifelong commitment and involves multiple methods of care, often at different times throughout your life.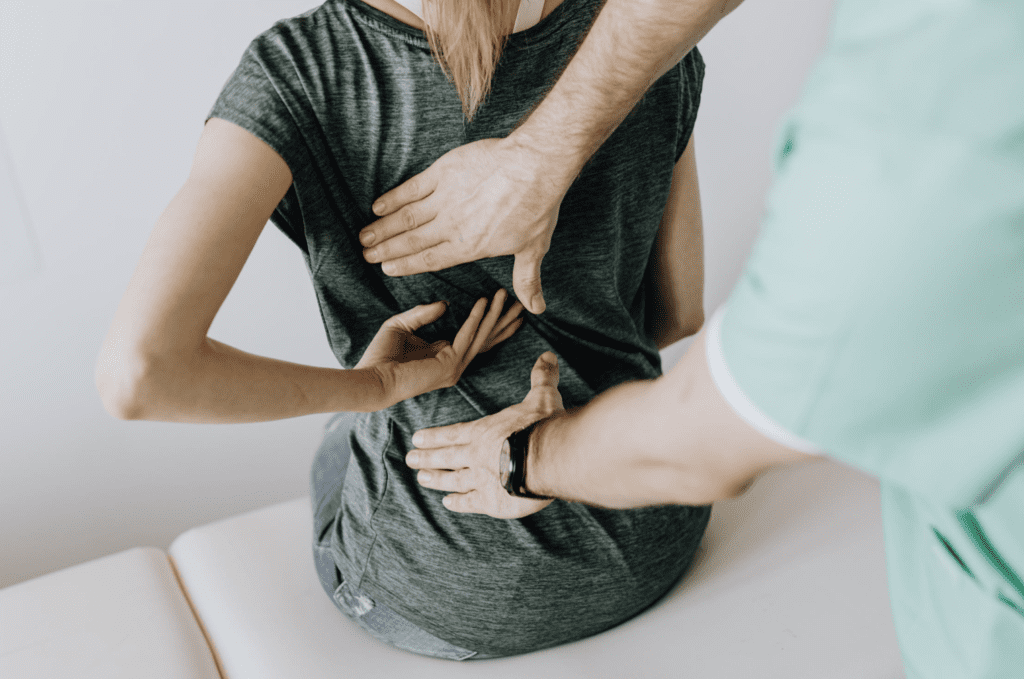 What You Can Do
Your physiotherapist will recommend a program that includes stretching and strengthening of your entire spine with an emphasis on posture. Since we all spend a lot of time using computers and devices, learning how to safely position yourself to carry out these tasks and work in frequent changes of position will go a long way in managing day to day symptoms. An inactive lifestyle will make spine stiffness worse, and you may experience pain in other joints as well.
Do you need to give up the activities that you love? NO!!! Participation in sports should be encouraged with emphasis on good technique, body awareness, and strength. Your CAMPT-Certified physiotherapist can help answer any questions you may have about this. They can work with your coaches to be sure that you have the necessary warm up or dry land program. Participation in sports like gymnastics or elite dance can be somewhat difficult due to the mobility limiting nature of this process but sports, in general, will help you stay healthy.
Scoliosis and Scheuermann's are long term challenges but with the right approach you can live with them and maintain a successful, active lifestyle.
About Lisa Hoffart
Lisa graduated from the University of Saskatchewan with a BScPT in 1995. She has worked in outpatient orthopaedics since graduation. Besides being an FCAMPT, she is a Registered Vestibular Therapist. She spent 7 years as the Lead Therapist for the Calgary Roughnecks Professional Lacrosse team. She has been a therapist at 5 World Championships in 3 sports. She is a successful youth lacrosse and softball coach and an accomplished classical vocalist. Lisa believes that ice cream should be an official food group. You can find out more about Lisa on Instagram, Twitter & LinkedIn.