Dizziness and Nausea

The Standard for Exceptional Care
What do you mean by the terms vertigo, dizziness and nausea?
Vertigo, dizziness and nausea all mean different things. Let's explain:
Vertigo is characterized as the feeling of existing in a moving environment when the environment itself is stationary. Vertigo may be described as "rotational vertigo", when you feel like the room is spinning, or it may be experienced as a "swaying" or "rocking" sensation.
Dizziness can be described as the feeling of being lightheaded or off-balanced and can be experienced differently by each person.
Nausea is the stomach and gut feeling of being sick; it may even lead to vomiting if you are feeling extremely unwell.
What causes dizziness and nausea?
There are many reasons for dizziness and the secondary nausea that may be experienced with it:
Medication changes, its side effects, or its interactions.
Vestibular system or inner ear dysfunction. The vestibular system provides information to the brain about your body's position in space, greatly helps with balance and your perception of movement. Deficits in the vestibular system can cause conditions like Benign Paroxysmal Positional Vertigo (BPPV), where little crystals (that we all are supposed to have) shift where they do not belong; this causes the information from the vestibular system to the brain to be altered which is ultimately interpreted as faulty movement. This is one of the most common causes for brief rotational vertigo. There are other conditions like vestibular neuritis or labyrinthitis where the nerve that connects the vestibular system to the brain gets inflamed or damaged (i.e. due to MVA, concussion, viral/bacterial infection, Meniere's Disease).
Neurological conditions (e.g. MS, stroke, tumours, migraines).
Medical conditions including low/high blood pressure or diabetes. One example is orthostatic hypotension, which is the feeling of being lightheaded for a few seconds that occurs when moving from laying to sitting or sitting to standing.
Neck injuries. For instance, a fall or car accident, particularly when your pain is close to the base of the skull or the upper region of the head, can lead to dizziness called "cervicogenic dizziness."
Anxiety, depression, and panic attacks may also cause dizziness.
---
Get insights from CAMPT-Certified physiotherapists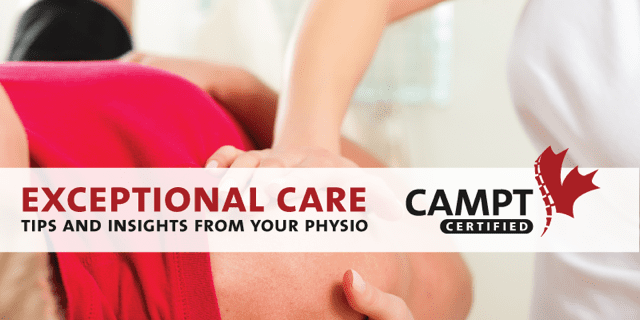 Enter your name and email address below to receive additional information about how a CAMPT-Certified physio can help you with this issue and others. We'll also send you our quarterly newsletter with additional tips to help you get better, recover faster and stay healthier.
By clicking subscribe, you agree that CAMPT can send you the Exceptional Care newsletter and other emails. We will not share your email address with third-parties.
---
How do I know if I have dizziness and nausea?
Determining if you have dizziness is often based on:
Your symptoms that you describe when you come into an assessment.
Your presentation during a thorough objective assessment, i.e. neurological exam (brain), neck exam, and specialized vestibular tests.
Could it be serious?
Yes. It is rare, but dizziness can be due to an underlying neurological condition. That is why it is important to have a thorough assessment to determine which healthcare provider (or team) is needed to assist you most effectively.
What are the options to help with dizziness and nausea?
It depends on the cause of the dizziness:
If it's due to medication, then see your family doctor or general practitioner (GP).
Vestibular: treatment by a vestibular physical therapist and sometimes an ENT (Ear, Nose and Throat) medical specialist is required.
Neurological: refer back to your GP, who will likely recommend you see a neurologist. Physiotherapy can provide coping techniques for the balance and dizziness during this process.
Medical conditions including low/high blood pressure or diabetes: consult your GP, and see a physiotherapist to learn home exercises to stay active safely.
Neck injuries: manual therapy from a CAMPT-Certified physiotherapist, chiropractor or massage therapist.
Anxiety, depression and panic attacks: work together with your GP and/or another mental health provider(s) to find strategies to support you.
There are so many websites pushing medications for dizziness and nausea, is that really the only way to fix it?
It is recommended that you get a thorough evaluation before taking medications. A CAMPT-Certified physical therapist who is trained in vestibular therapy can perform one and help identify conservative strategies to help manage and/or eliminate symptoms. Medications should be a last resort as one side effect is often dizziness; they are a band-aid to the problem, not a long-term solution.
What are the best treatment options for dizziness and nausea?
This depends on the cause of the dizziness and nausea:
Exercises can often help with symptom management. Exercises may be dedicated to improve: balance, coordination, gaze stability training (allowing your eyes to help with balance), or motion sensitivity training (a form of desensitization training).
If your dizziness is due to neck dysfunction, there are a variety of treatment options. These include, but are not limited to, dry needling, joint mobilization/manipulation, myofascial release, and exercise.
If the condition is due to BPPV, then there are techniques that a physiotherapist can use to safely move the loose crystals back where they belong and re-normalize the vestibular-to-brain communication pathway.
In more rare and severe cases, an ENT or neurosurgeon may have to do surgery depending on the nature of the dizziness.
Can a physiotherapist help with dizziness and nausea?
Yes. The exercises and treatments listed above (balance training, gaze stability training, mobilization/manipulation etc.) are examples of how a trained physiotherapist can help with neck, vestibular, or neurological conditions.
How long will dizziness and nausea take to get better?
It depends on the condition. Simple BPPV may take one to three sessions with a physiotherapist. Other conditions may take months and a daily home exercise program for full symptom relief. The rehabilitation experience is as unique as the person being treated.
Can I play or work with dizziness and nausea?
Your symptoms are the main factor which limit your activities. Often, it is not safe to operate motorized vehicles. Otherwise, it's important to not be fearful of your dizziness; this increases anxiety and more neck stiffness as you avoid moving, which can perpetuate dizziness.
Will dizziness and nausea get better on its own?
Some conditions like labyrinthitis or neuritis can be time-base, but even in these cases, treatment can help you cope with the dizziness. BPPV may spontaneously resolve but it is better to see a vestibular therapist immediately.
How soon should I seek treatment?
You should seek treatment as soon as possible. If you are vomiting continuously, it is recommended that you rest and hydrate, then start treatment when physically capable. If you have a history of cardiac or neurological conditions or other medical conditions, seek medical attention immediately.
How can a CAMPT-Certified physiotherapist help me?
CAMPT-Certified physiotherapists are trained to appropriately screen what is causing your dizziness – i.e. neck, neurological, vestibular, other medical conditions – and direct you to the appropriate medical practitioner if the cause is out of their scope. If within their scope, the CAMPT-Certified physiotherapist will work with you to create a personalized plan to manage and/or eliminate your symptoms and get you back to doing the things you enjoy doing.
What should I expect when I see a physiotherapist (or CAMPT-Certified therapist)?
A CAMPT-Certified physiotherapist will conduct a thorough history taking, assessment, and provide appropriate treatment. If needed, they will also provide additional medical referrals if needed.