The snow is falling and that can only mean one thing for cross country skiers – it's time to ski!
In recent years, cross country skiing has become increasingly popular across Canada, and for good reason. It is a fun, full-body, low-impact workout for people of all ages! Further, it is a relatively inexpensive sport you can enjoy alone or in a group with other cross country skiers. Combine that with the fact that Canada is covered in snow for the majority of the year and you get the most sensible sport in the Northern Hemisphere!
Both skilled cross country skiers and newcomers can attest to some amount of muscular stiffness at the beginning of the ski season. Here are four useful stretches to alleviate some of the tension felt in a few key muscle groups utilized in this sport. Hold each stretch for 20 seconds and repeat it two or three times.
1. Child's Pose & Child's Pose with Side Bending
The Child's Pose position stretches the lower back and the latissimus dorsi muscles. These muscles are heavily used by cross-country skiers during poling on the ski trail. They also assist stabilization of the lower back and pelvis during the reciprocal arm-leg movement of skiing.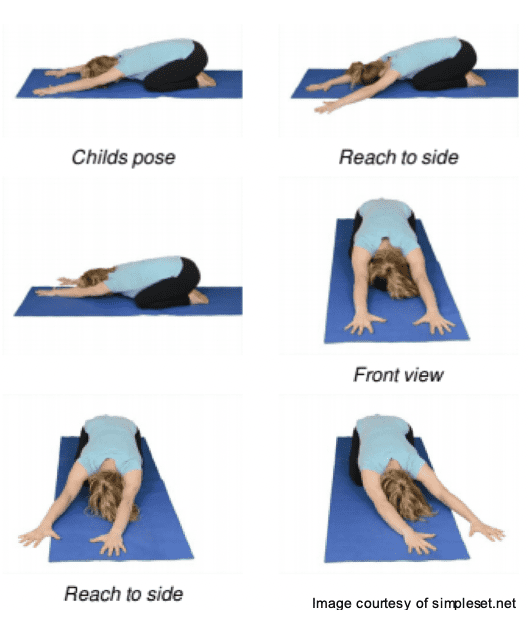 Preparation:
Kneel on the floor with your buttocks resting your feet
Execution:
Stretch arms forward as far as comfortable. Relax your head and trunk, allowing gravity to weigh you down.
Reach arms to one side, lengthening through the side of your trunk.
Repeat toward to the other side.
2. Hip Flexor Stretch
The hip flexor muscles are responsible for bringing your leg forward during the stride cycle.
Preparation:
Lay on your side on the floor.
Draw the top leg up toward your chest. Hold it with your hand.
Execution:
Gasp your bottom ankle and pull it backward towards your buttocks.
Feel the stretch in the thigh of the bottom leg.
Rotate your top shoulder backwards toward the floor to feel a stretch in your upper back.
3. Chest Stretch with a Towel
The constant poling during cross country skiing will provide a great workout for your chest muscles, namely the pectorals. Additionally, skiers often adopt a forward trunk posture during the run. This stretch allows for an opportunity to open up across your chest and stretch your middle back into an extended position.
Preparation:
Lie on the floor with a rolled towel across the middle of your back.
Execution:
Lay your arms out to the side in a 'hands up!' position.
Breathe deeply then exhale, allowing your body to relax over the towel while stretching across your chest.
4. Deep Squat
This stretch is a great lower body release; it targets the glutes, inner thigh muscles, and the calf muscles.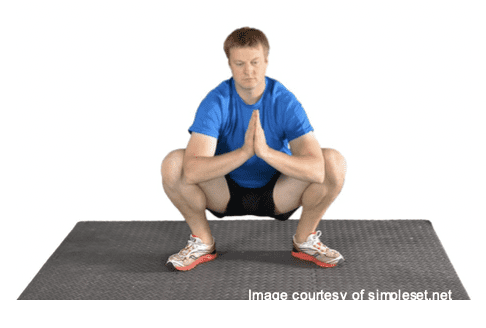 Preparation:
Slowly sink into a deep squat position.
Execution:
Try to keep your heels on the ground. You can position a rolled towel under your heels, if required.
Wiggle your hips back and forth to 'scour' the joint.
Use your elbows to press your knees outwards.
Remember to stretch only within your comfort level. No stretch should be painful; all of these stretches should feel like stretching or pulling, but comfortable. Happy skiing!
About Jacqueline Henderson
Jacqueline Henderson completed a BSc.Kinesiology at the University of Victoria in 2006. From there, she obtained a Master of Science in Physical Therapy from the University of Alberta in 2009. Jacqueline has been working as an orthopedic physiotherapist in Alberta since that time and has continued her education to expand the breadth of skills used in her practice. She is trained in Gunn IMS (dry needling), acupuncture, vestibular & dizziness treatment, rehabilitation Pilates, and is a Fellow of the Canadian Academy of Manipulative Physiotherapy (FCAMPT). Jacqueline treats a wide variety of people and conditions, ranging from young to old, and acute to chronic injuries. She is experienced in treating sports injuries, headaches, dizziness, complex motor vehicle accident injuries, and ongoing aches and pains. She also has a special interest in prenatal and postnatal women and the orthopedic issues associated with pregnancy and delivery. You can find out more about Jacqueline here.