Your Physiotherapy Questions Answered

The Standard for Exceptional Care
What is physiotherapy?
Physiotherapy is commonly referred to as a treatment, as in "I'm going for physio." However, Physiotherapy is actually a science-based health care profession that strategically employs a number of treatment types to ultimately assist people in regaining their functional abilities.
In some cases, this means restoring and regaining a specific movement or skill, in other cases it may mean to control pain, protect from further injury, understand new limitations or maximize a person's overall quality of life. The treatment considers the whole person, including lifestyle factors such as work, hobbies, exercise etc.
No matter the goal, the medical practice of Physiotherapy (or Physical Therapy) strives to return to a person a physical well-being that has been lost. The goal is to foster development and recovery, ensuring people can stay as active and independent as possible.
What does a physiotherapist do?
Physiotherapists have studied the science of movement and developed hands-on clinical skills so that they can diagnose and help restore, maintain, and improve a person's overall function and well-being. Physiotherapists focus on both prevention and rehabilitation strategies for pain caused by injury, disease, or disability. They use a range of physical techniques during treatment to ease pain and increase mobility. They also believe in the importance of the patient being involved in their own treatment. This includes education, re-training, exercises and participation, to complement the physical treatments conducted during visits.
---
Get insights from CAMPT-Certified physiotherapists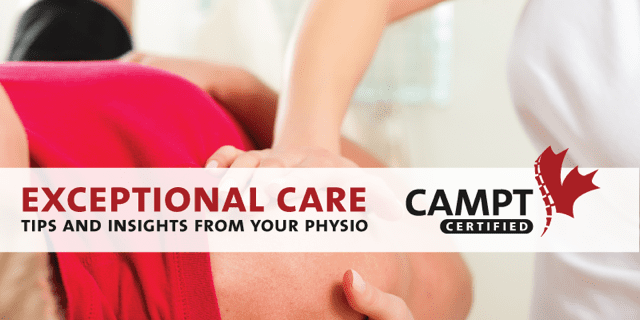 Enter your name and email address below to receive additional information about how a CAMPT-Certified physio can help you with this issue and others. We'll also send you our quarterly newsletter with additional tips to help you get better, recover faster and stay healthier.
By clicking subscribe, you agree that CAMPT can send you the Exceptional Care newsletter and other emails. We will not share your email address with third-parties.
---
Are there different types of physiotherapy?
Yes! Just like Doctors, Lawyers and Engineers there are many different "types" of Physiotherapists, and we define each therapist based on their specialty or on the area of practice where they work.
For example, there are:
Orthopaedic Physiotherapists
Cardiovascular and Cardiopulmonary Physiotherapists
Neurological Physiotherapists
Geriatric Physiotherapists (ie. Seniors)
Paediatric Physiotherapists (ie: Children)
Pelvic Health Physiotherapists
Concussion and Vestibular Physiotherapists
Animal Physiotherapists
Sports and Performance Physiotherapists
Chronic Pain Physiotherapists
Advanced practice Physiotherapists
…as well as several others.
You'll find physiotherapists in:
Private Practice Clinics
Publicly Funded Clinics
Hospitals
Long Term Care Facilities
Home Care (i.e. they come to you in your home)
Animal Clinics
Factories
Sporting Events (local, national, international)
Universities and Schools
Research Centres
Online (isn't everything online these days?!!)
…and in many more surprising places!
How can physiotherapy help me?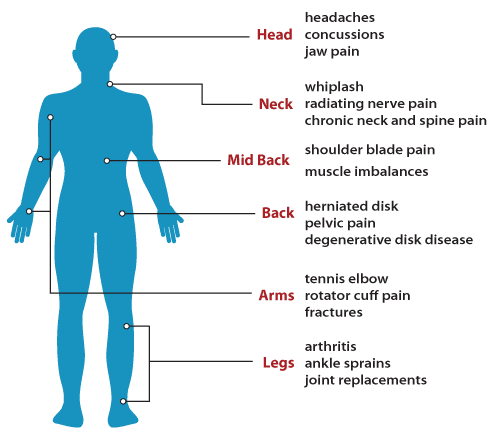 Physiotherapy is focused on restoring and maximizing your movement and well-being and will help you with:
Understanding your injury and the stages of healing
Managing expectations and guiding your understanding of how the injury and your activities will change over time.
Recommendations for any additional health care providers to support you in your recovery
Pain-management strategies
Prevention of injuries (both now and in the future)
Improvement of physical function (strength, mobility, freedom of movement, balance, flexibility etc.)
Resuming physical activities in time
When should I see a physiotherapist?
If you have an injury, have had an accident, or experience chronic (long-lasting) pain which limits your quality of life, it's a good idea to seek out a physiotherapist. Physiotherapy is also recommended after orthopedic surgery, or after significant health events like a stroke or a heart attack where loss of function may have occurred.
What issues can physiotherapy treat?
Physiotherapy is not just for back pain. Experienced physiotherapists can help with many physical problems such as:
Neuromusculoskeletal issues such as back and neck pain; joint issues such as pain or loss of mobility (e.g. arthritis); tendinitis or repetitive strain; pelvic weakness (e.g. post childbirth)
Neurological issues like Parkinson's, to Multiple Sclerosis, stroke, and more
Cardiovascular issues including post heart attack
Respiratory issues such as asthma, cystic fibrosis, long COVID, COPD, etc.
What physiotherapy techniques can I expect?
The technique(s) your therapist chooses will depend on your injury, pain and mobility. Physiotherapy techniques include:
Functional testing: to see your range of movement, strength, and ability to perform basic tasks (I.e squat, balance)
Manual manipulation: moving parts of the body to relax muscles, improve range of movement, improve circulation or drain fluids
Passive pain modalities: machines that can potential help reduce pain and speed recovery
Warm/cold therapy: to reduce pain and swelling
Dry needling: acupuncture or intramuscular stimulation (IMS) to stimulate the nervous system and improve pain
Therapeutic exercise
What should I expect in my first physiotherapy session?
Your session will be unique and catered to you and your specific goals.
An assessment will start with asking you questions to understand your medical history and pain experience, as well as your lifestyle.
Your physiotherapist will assess how you move to help understand the causes of your pain and come up with a diagnosis.
Goal setting and treatment plan. Your goals are our goals. They help us work together to create a plan towards getting you back to the activities you love. This will often involve in-clinic treatment as well as exercises. Your physiotherapist will also help you with any assistive devices you need to support your recovery.
What is generally considered "high quality" physiotherapy?
Physiotherapy is an investment in your time, effort, and money – and quality care is important. You have a choice in your healthcare, and below is a list of what high quality physiotherapy should offer:
Time is taken to listen to and understand you and your story. You have time to ask and get answers to your questions .
Time is also taken to thoroughly assess your function to determine how the condition or injury has affected you.
Communication of your treatment plan is a partnership between you and your physiotherapist to help you reach your goals. Your values, needs, and goals are considered and re-evaluated as you progress through treatment.
Patient-centered so your physiotherapist should empower you to take control of your health and provide ways to self-manage symptoms.
Before I book an appointment, what are the top five questions I should ask when I call the clinic?
Do your physiotherapists commonly treat or are comfortable treating ____ (condition/injury)?
What specific type of treatment will be provided for my condition?
How many patients does a physiotherapist see in an hour?
Will I be working with anyone else other than my practitioner?
How long are appointment times?
What is the cost of physiotherapy treatment? What payment options are available? Do you offer direct billing?