Strained Muscle

The Standard for Exceptional Care
What exactly is a strained muscle?
A strained muscle, or a "pulled muscle", is a term used to describe damage to a muscle or tendon. During a strain, fibers that compose a muscle or tendon are torn; the severity of a strain is dependent on how many fibers are torn and can vary from a partial tear to a complete rupture (100% of fibers torn). Strains can happen from a number of different reasons, with overuse of a muscle, improper warm up prior to activity, and a lack of flexibility being the most common causes.
What is the difference between a strained muscle and a sprain?
Strains and sprains are extremely similar, but the major difference is what structure is injured. Strains are used to describe injury to the muscle or its tendon (connects a muscle to a bone), while sprains are used to describe injury to a ligament (connects a bone to another bone). Similar to muscle strains, ligament sprains can also be sorted by severity based on how many fibers are torn.
---
Get insights from CAMPT-Certified physiotherapists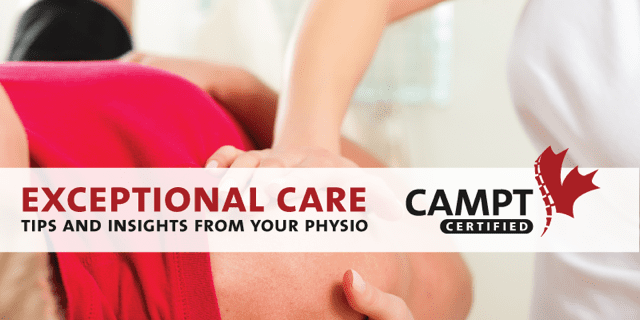 Enter your name and email address below to receive additional information about how a CAMPT-Certified physio can help you with this issue and others. We'll also send you our quarterly newsletter with additional tips to help you get better, recover faster and stay healthier.
By clicking subscribe, you agree that CAMPT can send you the Exceptional Care newsletter and other emails. We will not share your email address with third-parties.
---
What parts of the body can be sprained?
Any ligament in the body can be sprained, but some ligaments are sprained more often than others. Ankles, knees, backs, shoulders, wrists, and necks are all common sites of ligament sprains. An example of a commonly sprained ligament in the knee is the anterior cruciate ligament (ACL).
How do I know if I have a strained muscle?
Those experiencing strained muscles often report a 'tweak', 'snap', or 'pulling' feeling at the time of injury. In the following hours and days, several symptoms may develop such as pain, soreness, decreased range of motion, bruising/discoloration, swelling, muscle spasms, stiffness, and weakness in the affected muscle.
Is a strained muscle and sprain serious?
Strains and sprains vary on their degree of seriousness, with complete ruptures being more serious than partial tears; however, they are quite common and are not life threatening. Most sprains and strained muscles can be managed conservatively (meaning without undergoing surgery), but more severe sprains and strains including complete ruptures can be treated surgically. That being said, not all complete ruptures require surgery; based on someone's goals, abilities, and preferences, it is possible to return to activity/sport with a complete rupture!
What are the treatment options if I have a strain or sprain injury?
Treatment options vary based on the severity of the sprain or strain:
Mild forms of injury may heal on its own and be managed with appropriate rest.
More debilitating sprains and strains can be managed actively with appropriate exercise being a staple in treatment.
Severe strains and sprains including complete ruptures can be managed conservatively or can consider surgery as a treatment option which will be followed by an appropriate exercise plan.
Medication can also be considered for pain management purposes; speak to your medical doctor about this approach.
Can a physiotherapist help a strained muscle or ligament sprain? How?
A physiotherapist can absolutely help with treating muscle strains or ligament sprains. First, they can identify which muscle is affected through a detailed assessment and dedicate treatment to healing it. They will also create a detailed exercise plan that is appropriate for your stage of healing. Physiotherapists also utilize other modes of treatment such as manual therapy that can address physical deficits, modalities to help with pain management and accelerate healing, taping, and bracing, among other options. They will also guide you through your healing timeline, and provide evidence-based input on when it is suitable to progress your treatment.
Physiotherapists treat more than just physical injuries; they also work to understand who you are as a person. Your physiotherapist will develop a plan with you that is dedicated to achieving your personal goals, and will consider your preferences and dislikes.
How long do sprains and a strained muscle take to heal?
Healing timelines for sprains and strains are quite dependent on the severity of injury and can range from a few days to over a year. Healing is based off a 4-stage natural healing cycle that the body experiences after an injury, and is described as follows:
Stage 1 (homeostasis stage; first few seconds post-injury) – body attempts to stop bleeding caused from tissue damage by forming a clot.
Stage 2 (inflammatory stage; 1-3 days post-injury) – body's natural response to damage occurs. Here, we may experience redness, swelling, warmth near the injured area, pain, and loss of function.
Stage 3 (repair stage; 3 days-6 weeks post-injury) – body begins to repair the torn fibers in the muscle/tendon/ligament and brings in blood flow to promote healing. This is when scar tissue is formed.
Stage 4 (remodelling stage; 6 week-2+ years post-injury) – body begins to fine tune the reparations made in stage 3 to normalize the tissue to what it was before the injury.
Your physiotherapist will consider where you are on this timeline and select the most appropriate treatment for you at a given time.
How soon and when should I seek treatment?
If you suspect a strained muscle or ligament sprain, you should seek treatment as soon as possible following the injury. This is important since the physiotherapist will not only be able to inform you about the extent of your injury, they will also be able to:
Inform you about the degree of the injury and if any other structures have been damaged
Help you control pain and limit the amount of swelling and movement loss as a result of your injury
Help protect you from additional injury
Suggest which activities are safe and which activities should be avoided
Suggest options for formal treatment and for self-treatment on your own at home
Help you maintain your ability to walk and put weight on a potentially injured leg, depending on what muscle or ligament is affected
Inform you in you need additional consultation (ie: an xray, an MRI, an appointment with a surgeon or another specialist)
What should I expect when I see a physiotherapist for a strained muscle?
A few key things should go into any visit to a physiotherapist
You should be warmly welcomed and the therapist should introduce himself or herself by name. They should also confirm your personal details.
After your introduction, your assessment will start with asking you key questions to understand your medical history and pain experience, as well as aspects about your lifestyle, your goals and any specific questions or concerns you have about the injury and/or the rehabilitation process. This is also be the time your therapist will ask important safety questions to ensure your injury is protected.
Next your physiotherapist will ask your permission and begin to assess your ability to move the limb as well as to assess your strength, your neurological sensation and your comfort level with weight or pressure through the injured area. This will help identify and understand what is causing your pain and help will confirming and communicating your diagnosis.
Once your assessment is complete, the next step should be to walk you through your injury, explain the structures involved and help you understand the treatment options you have and what each of them means in terms of benefits and risks. This is also where goal setting and treatment planning will happen with your therapist.
Here's the thing about high quality therapy; Your goals are the therapist's goals. Meaning, all good therapeutic situations are where you and the therapist work together to create a plan towards getting you back to the activities you love. This will often involve in-clinic treatment as well as exercises. Your physiotherapist will also help you with any assistive devices you need to support your recovery.