Do you have back pain and/or stiffness, atypical temperature or sweating changes (especially in the middle of the night), hand and/or foot tingling, heart fluttering, unexplained anxiety, and/or other bizarre or unexplained symptoms? If so, you might have T4 Syndrome and may be interested in understanding not only what it is but how to treat it.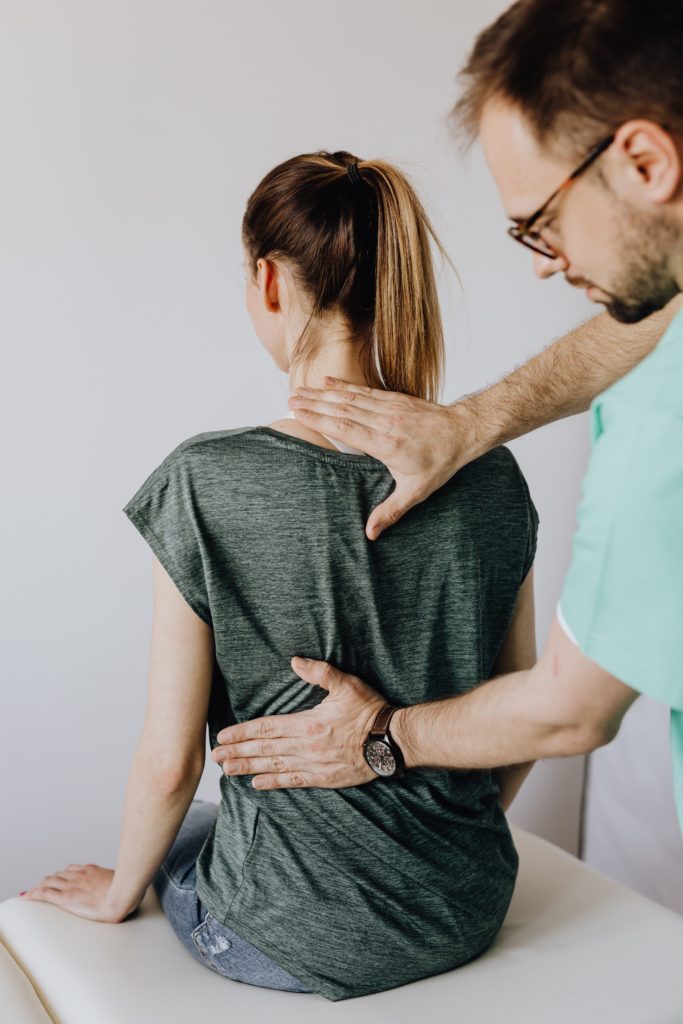 What is T4 Syndrome?
Unfortunately, T4 Syndrome is a very poorly understood and often unrecognized condition. As a result, no one confidently knows what T4 Syndrome is. However, it appears to involve two primary defining characteristics. First, spine and rib cage stiffness are always present in T4 Syndrome. This is no different than someone without T4 Syndrome who has, for example, a stiff and painful back. Of note, the part of the back typically involved with T4 Syndrome is located between the shoulder blades. The second characteristic involves a disruption of the autonomic nervous system. While that might not make sense immediately, many people will recognize the symptoms described above, which are often involved with this disruption. However, people with T4 syndrome can have a highly variable presentations so not everyone experiences the same manifestations. Furthermore, the autonomic nervous system impacts nearly every tissue in the body. This far reaching reality might explain why T4 Syndrome can have such a huge array of symptoms.
Why are autonomic symptoms involved?
Again, the unfortunate answer is that no one really knows. That point having been made, it can be helpful to think of T4 Syndrome like we tend to think of a pinched nerve, which pretty much everyone has heard of. When certain nerves that are, for example, located in the neck or back get pinched, a person can experience pain, numbness, tingling, and/or weakness in the affected arm or leg. This is because the nerves that tend to get pinched in the neck and back control these functions. Similarly, there are bundles of autonomic nerves located along the spine that can be impacted by tightness of the spine and/or rib cage. These nerves, however, are responsible for different symptoms. These bundles of nerves also happen to be located immediately adjacent to the tip of the rib where it connects to the spine. It appears that when the bones, joints, and ligaments are not moving properly the bundle of autonomic nerves can get disrupted. Perhaps the nerves are pushed on or otherwise mechanically interfered with but no one has proven what is occurring during T4 Syndrome.
What does the scientific evidence say?
The answer to this question is both not much and quite a bit. A diligent search will find published papers on T4 Syndrome in the physiotherapy, chiropractic, medical, and osteopathic literature. However, these references are few and far between. Furthermore, the sources that do exist are of poor quality. That point aside, dozens of research studies have been conducted regarding the effects of orthopaedic manual therapy techniques on the autonomic nervous system. For example, when a physiotherapist applies manual therapy to the spine it can result in changes to a wide variety of bodily functions including but not likely limited to: electrical conductance of the skin, body temperature, blood flow, heart rate and heart rate variability, blood pressure, respiratory rate, sweating, and the presence of stress hormones in the saliva. Interesting, the changes in these functions after the spine is pushed on could explain why spinal stiffness can cause a condition like T4 Syndrome.
How is Orthopaedic Physiotherapy related to T4 Syndrome?
One of the two characteristic findings of T4 Syndrome is tightness of the spine and rib cage and, as it turns out, orthopaedic manual therapy is particularly useful when trying to address spinal stiffness. As a result, any physiotherapist with advanced training and a sufficient understanding of T4 Syndrome should be able to resolve the problem. Treatment sessions should focus on activities such as patient education, manual therapy, and practicing self-directed or home stretching techniques.
What is one of the most important factors to consider when this condition is suspected?
Many of the symptoms are also associated with medical conditions that may or may not be more dangerous. As a result, when someone experiences symptoms involving something like back pain and heart fluttering, they should be examined by a medical provider to rule out any nefarious diagnoses. However, when potentially severe problems are ruled out, professionals like physiotherapists can more confidently and safely examine a patient for T4 Syndrome.
What is the Prognosis like?
Most people will make a full recovery if they receive the correct treatment. However, a small percentage of cases seem to be persistent, which is most common in people that are really inflexible and are therefore difficult to stretch out. Additionally, the structure and function of the rib cage causes it to be inherently rigid. This is the case because the rib cage's role is to protect many of the internal organs. For example, if you slip and fall you don't squish your heart and lungs because of your rib cage. On the other hand, because the rib cage is so stable it tends to not move well and can therefore tighten up over time. Bearing these points in mind, when persistent T4 Syndrome symptoms are present a person will likely have to keep on stretching to make sure the symptoms remain low.
References:
Bogduk N. Research design or what is T4 syndrome? New Zealand Journal of Physiotherapy. 1986;14(3):9-11.
Budgell B, Polus B. The effects of thoracic manipulation on heart rate variability: a controlled crossover trial. J Manipulative Physiol Ther. 2006;29(8):603-10.
Chiu TW, Wright A. To compare the effects of different rates of application of a cervical mobilisation technique on sympathetic outflow to the upper limb in normal subjects. Man Ther. 1996;1(4):198-203.
Conroy JL, Schneiders AG. The T4 syndrome. Man Ther. 2005;10(4):292-296.
DeFranca GG, Levine LJ. The T4 syndrome. J Manipulative Physiol Ther. 1995;18(1):34-37.
Delaney JP, Leong KS, Watkins A, Brodie D. The short-term effects of myofascial trigger point massage therapy on cardiac autonomic tone in healthy subjects. J Adv Nurs. 2002;37(4):364-371.
Evans P. The T4 Syndrome. Some Basic Science Aspects. Physiotherapy.1997;83(4):186-189.
Fraser DM. T-3 revisited. J Orthop Med. 1993;15:3-4.
Geerse WK. Bilateral leg symptoms – the T10 syndrome? Man Ther. 2012;17(3):251-254.
Harris W, Wagnon RJ. The effects of chiropractic adjustments on distal skin temperature. J Manipulative Physiol Ther. 1987;10(2):57-60.
Hirai PM, Thomson OP. T4 syndrome – A distinct theoretical concept or elusive clinical entity? A case report. J Bodyw Mov Ther. 2016;20(4):722-727.
Jowsey P, Perry J. Sympathetic nervous system effects in the hands following a grade III postero-anterior rotary mobilization technique applied to T4: a randomised, placebo-controlled trial. Man Ther. 2010;15:248-253.
Karas S, Pannone A. T4 Syndrome: A Scoping Review of the Literature. J Manipulative Physiol Ther. 2017;40(2):118-125.
Karason AB, Drysdale IP. Somatovisceral response following osteopathic HVLAT: a pilot study on the effect of unilateral lumbosacral high-velocity low-amplitude thrust technique on the cutaneous blood flow in the lower limb. J Manipulative Physiol Ther. 2003;26(4):220-225.
La Touche R, París-Alemany A, Mannheimer JS, Angulo-Díaz-Parreño S, Bishop MD, Lopéz-Valverde-Centeno A, von Piekartz H, Fernández-Carnero J. Does mobilization of the upper cervical spine affect pain sensitivity and autonomic nervous system function in patients with cervico-craniofacial pain?: A randomized-controlled trial. Clin J Pain. 2013;29(3):205-215.
McGuckin N. The T4 Syndrome, in Modern Manual Therapy of the vertebral column (p. 370-376), G.P. Grieve, Editor. Edinburgh: Churchill Livingstone: 1986.
McGuiness J, Vicenzino B, Wright A. Influence of a cervical mobilization technique on respiratory and cardiovascular function. Man Ther. 1997;2(4):216-220.
Mellick GA, Mellick LB. Clinical presentation, quantitative sensory testing, and therapy of 2 patients with fourth thoracic syndrome. J Manipulative Physiol Ther. 2006;29(5):403-408.
Moulson A, Watson T. A preliminary investigation into the relationship between cervical snags and sympathetic nervous system activity in the upper limbs of an asymptomatic population. Man Ther. 2006;11:214-224.
Moutzouri M, Perry J, Billis E. Investigation of the effects of a centrally applied lumbar sustained natural apophyseal glide mobilization on lower limb sympathetic nervous system activity in asymptomatic subjects. J Manipulative Physiol Ther. 2012;35(4):286-294.
Paungmali A, O'Leary S, Souvlis T, Vicenzino B. Hypoalgesic and sympathoexcitatory effects of mobilization with movement for lateral epicondylalgia. Phys Ther. 2003;83(4):374-383.
Perry J, Green A. An investigation into the effects of a unilaterally applied lumbar mobilization technique on peripheral sympathetic nervous system activity in the lower limbs. Man Ther. 2008;13:492-499.
Perry J, Green A, Singh S, Watson P. A randomised, independent groups study investigating the sympathetic nervous system responses to two manual therapy treatments in patients with LBP. Man Ther. 2015;20(6):861-867.
Peterson B, Vincenzio B, Wright A. The effects of a cervical mobilization technique on sympathetic outflow to the upper limb in normal subjects. Physiother Theory Pract. 1993;9(3):149-156.
Piekarz V, Perry J. An investigation into the effects of applying a lumbar Maitland mobilisation at different frequencies on sympathetic nervous system activity levels in the lower limb. Man Ther. 2016;23:83-89.
Reis MS, Durigan JL, Arena R, Rossi BR, Mendes RG, Borghi-Silva A. Effects of posteroanterior thoracic mobilization on heart rate variability and pain in women with fibromyalgia. Rehabil Res Pract. 2014;2014:898763.
Roy RA, Boucher JP, Comtois AS. Heart rate variability modulation after manipulation in pain-free patients vs patients in pain. J Manipulative Physiol Ther. 2009;32(4):277-286.
Sampath KK, Botnmark E, Mani R, Cotter JD, Katare R, Munasinghe PE, Tumilty S. Neuroendocrine Response Following a Thoracic Spinal Manipulation in Healthy Men. J Orthop Sports Phys Ther. 2017;47(9):617-627.
Simon R, Vicenzino B, Wright A. The influence of an anteroposterior accessory glide of the glenohumeral joint on measures of peripheral sympathetic nervous system function in the upper limb. Man Ther. 1997;2(1):18-23.
Slater H, Vincenzino B, Wright A. 'Sympathetic Slump': The effect of a novel manual therapy technique on peripheral sympathetic nervous system function. J Man Manip Ther. 1994;2(4):156-162.
Sterling M, Jull G, Wright A. Cervical mobilisation: concurrent effects on pain, sympathetic nervous system activity and motor activity. Man Ther. 2001;6(2):72-81.
Sugrue N, Drysdale I. The effects of lumbar spine high velocity low amplitude thrust (HVLAT) manipulation on upper limb cutaneous blood supply. International Journal of Osteopathic Medicine. 2008;11:149-168.
Tsirakis V, Perry J. The effects of a modified spinal mobilisation with leg movement (SMWLM) technique on sympathetic outflow to the lower limbs. Man Ther. 2015;20(1):103-108.
Vicenzino B, Cartwright T, Collins D, Wright A. Cardiovascular and respiratory changes produced by lateral glide mobilization of the cervical spine. Man Ther. 1998;3(2):67e71.
Welch A, Boone R. Sympathetic and parasympathetic responses to specific diversified adjustments to chiropractic vertebral subluxations of the cervical and thoracic spine. J Chiropr Med. 2008;7(3):86-93.
Zhang J, Dean D, Nosco D, Strathopulos D, Floros M. Effect of chiropractic care on heart rate variability and pain in a multisite clinical study. J Manipulative Physiol Ther. 2006;29(4):267-274.
About Stephen M. Shaffer
Stephen M. Shaffer is a full-time clinician and has managed patients with musculoskeletal disorders since 2003. He completed residency and fellowship training in orthopaedics at the Institute of Orthopaedic Manual Therapy in Woburn, Massachusetts and the University of Illinois at Chicago, respectively. Additionally, he completed academic doctoral training in orthopaedics at Texas Tech University Health Sciences Center in Lubbock, Texas. He is a credentialed fellow and member of both the Canadian Academy of Manipulative Physiotherapy and the American Academy of Orthopaedic Manual Physical Therapists. He currently works in Cornwall, Ontario and continues to participate in both clinical practice and academic research. You can find out more or book an appointment with Stephen here.