Secure website for the CAMPT-Certified program where you can access additional resources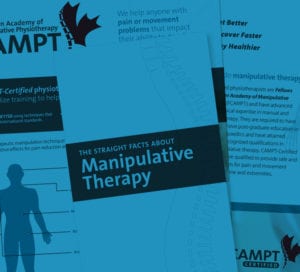 When you become a CAMPT member, you will get access to the Member Resources area of the website, which includes your numerically coded seal, advertising stickers, and other material to help promote yourself and your practice.
---
Policies, Procedures, and Privacy Statements
1.  The FCAMPT and RCAMPT credentials
CAMPT is a trademarked not for profit organization.  The terms CAMPT and FCAMPT have been protected since March 26, 2012.  Policing our trademark is required to maintain its status.
Only physiotherapists that are Fellows in good standing with CAMPT may claim FCAMPT status.  This includes being up to date with your yearly registration fees.  Anyone who is not a Fellow in good standing must not use FCAMPT in their credentialing or reference CAMPT in their professional designations.
RCAMPT is no longer a recognized title.  This is in accordance with IFOMPT member organization requirements.  Physiotherapists are no longer able to use RCAMPT as a professional designation, as it does not exist.
We are actively policing this policy.  If you are aware of anyone who may be falsely using FCAMPT or RCAMPT you may anonymously report them to the CAMPT executive.  We will follow up on this policy.
2.  Annual Renewal
The annual CAMPT renewal period runs from December 1 to January 31.  CAMPT sends out two (2) complimentary emails reminding Fellows to renew their membership.  All Fellows are required to renew annually and must have their fees paid by January 31 of the year for which they will be registered.  If these timelines are not met, a Fellow is considered late in their registration and at that moment no longer eligible to use the terms of privileges of the FCAMPT status.  If late, the physiotherapist will be contacted to either complete their annual registration or cease and desist the use of FCAMPT in their credentialing.  If the physiotherapist fails to comply disciplinary action will be take. 
3. Late or Missed Renewal Fees
Any Fellow that missed the yearly registration deadline (January 31 of the current calendar year) will be charged a $50 late fee in addition to their annual registration dues.
Fellows are not permitted to skip registration years.  If a Fellow has been delinquent on an entire registration year they will be charged a $150 penalty in addition to their annual registration dues.  This policy will take effect December 1, 2017.
4. Parental Leave
Fellows are eligible to take a one-year leave option on their Fellowship if they are on maternity/paternity leave at the time of registration.  The Fellow is still required to renew their membership by the usual deadline of January 31 of that calendar year but will receive a 75% discount by requesting a Parental Leave coupon code to use when renewing.  This may only occur for one (1) successive year.  The Fellow is required to renew their membership the following registration year for the full annual fee.
5. Professional Sabbatical
Fellows are eligible to take a professional sabbatical from their CAMPT Fellowship if they will be residing out of the country at the time or registration, and expect to remain so for the duration of the registration year.   This sabbatical may remain in effect for an undetermined about of time.  The Fellow may return to Canada and regain their Fellowship without penally only if the Fellow alerts the CAMPT secretary/treasurer of their absence prior to leaving the country.
6. Retirement/Short Term Leave
If you are member of CAMPT and you retire or take a leave from physiotherapy, you must submit a letter of resignation to CAMPT and confirm that you have also retired/taken leave from your provincial regulatory college.
Upon resigning your membership with CAMPT, you must cease and desist the use of FCAMPT in all professional designations and marketing material.
If you stop practicing part way through a year for which you have paid membership dues to CAMPT, you are entitled to a fee credit. Fee credits are pro-rated by the day and expire 12 months after you resign from CAMPT. This regulation does not apply for maternity/paternity leave. Please see the policy on Parental leave for requirements.
If prior to fee credit expiration, you decide to reinstate your membership with CAMPT, a letter requesting reinstatement must be submitted, and the fee credits will be applied towards your registration fees.
Please direct letters of resignation to:
Jennifer MacMillan – CAMPT Compliance Officer [email protected]
---