About CAMPT
Professional organization of physiotherapists who have completed post-graduate training that meets international standards

The Canadian Academy of Manipulative Physiotherapy (CAMPT) is a professional organization of physiotherapists who have completed post-graduate training in hands on therapy treatment techniques that meet the International Federation of Manipulative Physical Therapy (IFOMPT) standards.
Membership in CAMPT gives you the right to use the designation Fellow of the Canadian Academy of Manipulative Physiotherapy (FCAMPT), which is a trademarked and protected title that only CAMPT-Certified physiotherapists can use.
We help anyone with pain or movement problems that impact their ability to do what's important to them. By delivering research-guided physiotherapy care, our patients:
Get Better using techniques that meet international standards
Recover Faster since we find and target the root cause with focused treatments
Stay Healthier by educating them about their condition to reduce relapse.
You can find a CAMPT-Certified physiotherapist in your area here.
---
CAMPT Affiliations
CAMPT is Canada's member organization of IFOMPT, which is a special interest group of the WHO. IFOMPT was created as a subsection of the WHO to monitor and encourage a high level of standardized among orthopaedic physiotherapy worldwide. CAMPT monitors the quality of accepted educational programs in Canada to ensure the continually demonstrate these high standards.
WHO
The World Health Organization (WHO) began when their  Constitution came into force on 7 April 1948 – a date we now celebrate annually as World Health Day. The organization is now more than 7000 people working in 150 country offices, in 6 regional offices and at headquarters in Geneva.  Their goal is to build a better, healthier future for people all over the world. The WHO staff work side by side with governments and other partners to ensure the highest attainable level of health for all people.  The WHO strives to combat diseases and promote the highest level of healthcare worldwide.
World Physiotherapy (WP)
Founded in 1951, the World Physiotherapy (WP) is the sole international voice for physical therapy, representing more than 600,000 physical therapists worldwide through its 127 member organizations. World Physiotherapy operates as a non-profit organisation and is registered as a charity (World Confederation for Physical Therapy) in the UK. WP believes that every individual is entitled to the highest possible standard of culturally appropriate healthcare delivered in an atmosphere of trust and respect for human dignity, and underpinned by sound clinical reasoning and scientific evidence. It is committed to furthering the physical therapy profession and improving global health through: encouraging high standards of physical therapy research, education and practice, supporting the exchange of information between WP regions and member organizations, and collaborating with national and international organizations.
International Federation of Orthopaedic Manipulative Physical Therapists (IFOMPT)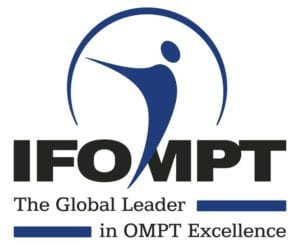 The International Federation of Orthopaedic Manipulative Physical Therapists (IFOMPT) represents groups of Manipulative Physical Therapists around the world who have completed stringent post-registration/post-graduation specialisation programs in the field of neuro-musculoskeletal disorders.  It is a Federation that sets international educational and clinical standards in this area of physical therapy.  IFOMPT accreditation actively requires high quality of patient management outlined in its Standards Document, and endorses evidence-based practice.  IFOMPT is a subgroup of the World Physiotherapy, and was formed in 1974.
---
Fund Requests
Constitutional Obligations
Restricted Assets and Contingencies policy CAMPT
CAMPT has the responsibility to maintain a sound fiscal position. Operational expenditures are projected in the budget that is approved annually at the CAMPT AGM. Along with meeting its internal obligations, CAMPT is committed to assisting the development of orthopedic manipulative therapy.  Such assistance may be in the form of grants to external agencies both within Canada and internationally.
CAMPT wishes to maintain fiscal responsibility and provide external agencies requesting financial assistance a clear understanding.
– Adopted amendment AGM Halifax June 2015
An official funding request letter must be submitted to the CAMPT executive outlining the following:
a) The requested funding amount
b) What these funds are intended for
c) Why such funds should be sourced from CAMPT
d) Requested date of delivery
Please submit the request to the CAMPT executive via the Secretary/Treasurer. The executive will then review the request and vote its approval at the following quarterly meeting. The vote will only be put forth to the membership if deemed appropriate at that time. Once finalized, the secretary will contact the applicant and inform them of the decision.
---
Current CAMPT Executive
President
Tim Rogers
Past President
Erik Schmidt
Vice President
Mike Stewart
Secretary/Treasurer
Melissa Venturuzzo
Compliance Officer
Jennifer MacMillan
Social Media Director
Andrew Tri
IFOMPT Representative
Michael Boni
Junior IFOMPT Representative
Rhonda Reardon
Special Events Coordinator
Helen Janzen
Francophone Representative
Maxime Gauthier
---
Lifetime Members
This honour is granted to individuals who have provided outstanding long-term service of more than twenty years to Orthopaedic Manual and Manipulative Physiotherapy.
2012 and Prior
Jill Robertson
Bob Sydenham
Beverley Padfield
Elaine Maheu
2014
Erl Pettman
Janet Lowcock
Cliff Fowler
John Oldham
2015
Richard Bourassa
Therese Lord
Michael Ritchie
François Landry
2016
Wendy Aspinall
Diane Lee
Laurie Urban
2017
Bert Chesworth
Murray MacHutchon
2018
Carol Kennedy
Doreen Killens
May Nolan
2019
Anita Gross
Lenerdene Levesque
Lorrie Maffey
2023
Greg Spadoni
Jackie Sadi
Rob Holmes
Deb Treloar
Bill Lyons (posthumously awarded)
---
Honorary Members
May be granted to individuals not eligible to be members of the academy who have enhanced or have rendered valuable service to Orthopaedic Manual and Manipulative Physiotherapy through unique or long-term service or have merited special recognition for their work in a parallel field.
2020
---
In Memoriam